John & Barbara Vazquez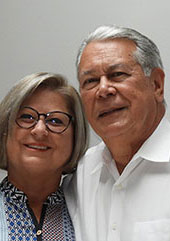 John & Barbara Vazquez, Broker­Associate/REALTORS, are a husband and wife sales team with The Keyes Company. Previous owners of SeaLand Real Estate in New Smyrna Beach, Florida, they merged with The Keyes Company in January, 2015. Parents of three grown children and three granddaughters. And yes, there's also Dani and Dusty, our very spoiled cats.
Among the area's top REALTORS, John & Barbara ranked in 2003 and 2004 as having the Highest Number of Listings Sold, according to MLS records of the New Smyrna Beach Board of REALTORS, as well as ranking in the top 10 for Total Volume Sold for 2004 and 2005. In 2008, John & Barbara ranked #2 in the local MLS market for Total Number of Transactions Sold. As of 2009, our local Board of REALTORS no longer recognizes sales and listing achievements.
Both of them are members of the Florida Association of Realtors and National Association of Realtors. Voted by Daytona Beach News Journal readers as 2010's Best Realtor, as well as their previous company being voted Best Real Estate Company in 2010, 2011 and 2014. The Keyes Company was honored to receive the Best Real Estate Company by the readers for 2015. We're now proud to be part of The Keyes Company family of Realtors, a strong Florida based Real Estate Company comprised of over 2,500 agents in over 30 locations throughout Florida. Prior to owning SeaLand Real Estate, they were former RE/MAX agents, and Hall of Fame members, a designation achieved by only 12% of RE/MAX agents worldwide, as well as Platinum Club and 100% Club members, some of RE/MAX's highest awards.
JOHN G. VAZQUEZ ­­ Broker­Associate
Area Resident since 1975
Past Governor, Smyrna Yacht Club, 2005­2007
Past President New Smyrna Beach Area Chamber of Commerce
Past President 2x ­ New Smyrna Beach Kiwanis Club
Past Chairman ­ Southeast Volusia Advertising Authority
Chairman ­ Fairgreen Presidents Council, 2002­present
Past President ­ Fairgreen Unit VI Homeowners Association & Current Vice President
Unit VIII
Hobbies: Boating, Fishing, Golfing, Photography, Traveling
Closed Dollar Volume New Smyrna Beach Board of Realtors MLS 2004 ­ June 2015 ­ $100 Million
BARBARA VAZQUEZ ­- REALTOR
Barbara's 15­year career in the advertising field, as well as her managerial and computer skills provides their sales team with valuable sales assistance and out in the field working with customers.
2nd Generation Native Floridian, born in Orlando and lived in New Smyrna Beach most of her adult life
Former Boy Scout Leader, 1986­1990, Award of Merit, Central Florida District, Boy Scouts of America
Orlando Business Journal/Price Waterhouse Up & Comers Award for Advertising
Past President, Woman of the Year ­ Beta Sigma Phi
Past Director, Flagler Avenue Merchants Association
Block Captain, Flagler Avenue Merchants Association ­ 2001­2015
Past President, Fairgreen Unit VI Homeowners Association
Secretary of Fairgreen Presidents Council, 2002­present
Together, we take pride in finding the right home for our customers, introducing newcomers to our terrific home town, and work hard to make it a smooth and effortless experience for both buyers and sellers. We feel very lucky to live and make our living in this great little town and try to give back to the community that gives us so much. We serve all of New Smyrna Beach, Port Orange, Oak Hill and Edgewater area.